3 Ways to Stop Sucking at Social Media Advertising
October 30, 2019
Hey, fam.
It's time we had the talk.
No, not that talk, but a talk that's equally as important. Your social media ads are not performing well. It's okay, it happens to the best of us. What's important is that we address the problem now and work together as a team to get better. I'm here for you and together we can figure this out…
Here are 3 ways to stop sucking at social media advertising:
1. Create objectives outside of "getting new likes."
Earning new likes or followers is desirable and should be a part of your social media advertising plan. In fact, I would argue that it should be a large component of your content strategy when you're starting fresh. However, it should never be your singular focus.
There are plenty of other objectives in social media advertising, like increasing brand awareness, customer retention, brand loyalty and much more. It's important to create strategies for these objectives that match your overall business objectives to have a healthy and robust return on your ad spend. Being successful is about so much more than counting vanity metrics.
2. Test organically on your current audience.
For this point, let's assume you have a healthy following on your social media platforms. A good following allows you to test content or strategies organically to see what works for your audience and what doesn't. Unlike its expensive counterpart in the produce aisle, organic testing is free, and it only costs you a little bit of your time. So, do yourself a favor and test your strategies out with your existing audience!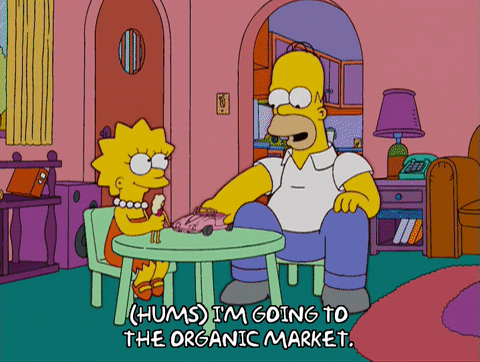 3. Re-targeting is super neat!
First, I'll explain what re-targeting is. Your web browser uses things called "cookies" to know where you've been. Think of Hansel and Gretel leaving bread crumbs for their trail. Then someone, in your case it's the social media platform, keeps track of those cookies, or crumbs, when you go from their platform to another website. That's how they know who's who and can help you build an audience using those cookies, like a bunch of little gingerbread people! Writing this paragraph has made me hungry. I don't know how food bloggers do it.
Anyways, create social media ads that are designed to re-target website visitors or people who have engaged with your posts. Facebook, Instagram and Twitter offer their own forms of this feature for creating ads. It would be wise to use it but be sure to use it wisely: make sure the content you create for this ad is applicable to your target audience!
---
In conclusion, social media advertising is simple! Once you grasp onto basic concepts and principles, social media advertising is quite fun! That said, do yourself a favor and get your nose to the grindstone. Understand your objectives, figure out what works with your audience and re-target. That's your 3 simple ways to not suck at social media advertising and if you need help with your advertising, please reach out to us because we do it all and we do it well. Peace out!